---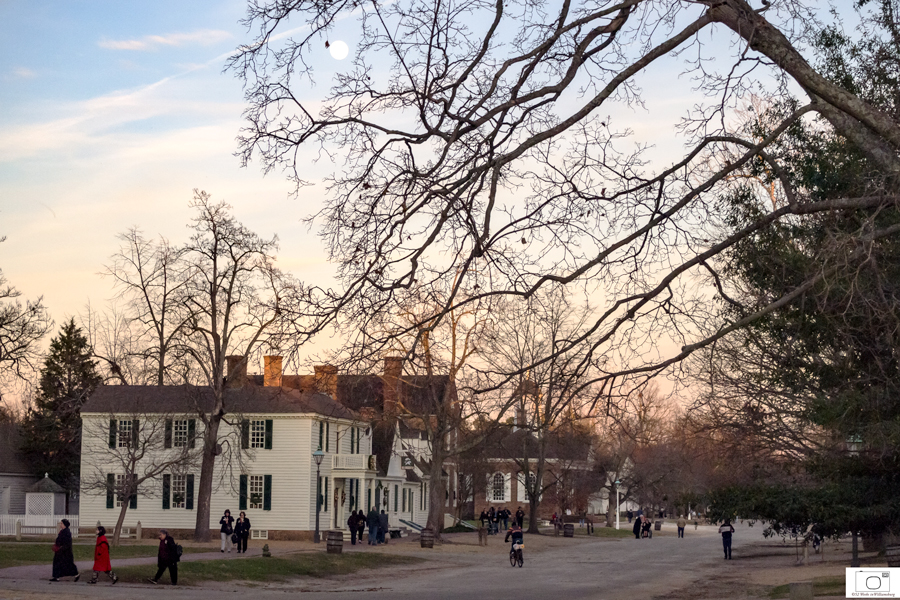 Dusk — December 2011
---
I have known Joan almost the whole time I have lived here. She is one of my dental hygienists. She is always curious about what we have been up to in the previous 6 months. I asked if she had seen 52 Weeks. She had not, so I told her the address. While we waited for the Dentist to come in and give me a thumbs up or down, she opened the Blog page and started looking and reading the posts. She was very appreciative. I asked her what image she carries around in her mind of this area, and she said Christmas time in Colonial Williamsburg on Duke of Gloucester Street, just beyond the Court House, looking at the Capitol, right after the

The Grand Illumination

. I said I just happen to have that very picture, taken in 2011, on a beautiful, cool and dry early December afternoon at dusk. I told her that I would post it in early December. Joan, this one is for you.

Here is what I did not know about Joan and her interests. She asked me if I had seen her website,

Middle Ground Lighthouse

. I had not, so I went and looked when I was back at home. WoW. She and her family rebuilt this lighthouse and it took 7,000 hours of labor, sweat, and love. I can't do the story justice here. Go look at her web site and watch the videos. They were on HGTV — how cool is that? Amazing stuff! I am thinking that she would know an image of this lighthouse no matter how many other pictures I surrounded it with. I would love to take a picture of it, but it is not easy to get to, other than by water vessel. If you hear a story about some guy taking pictures creating traffic problems on the Monitor-Merrimac Memorial Bridge Tunnel late in the afternoon, it was not me… maybe.

A little about this picture. As I was walking around, right after

The Grand Illumination

in early December, 2011, I saw the moon framed by the tree. That is what I thought I was taking the picture of. When I opened the file up and brightened the foreground, I saw I had more than a moon framed by some tree. There are wreaths in the windows, people scurrying about, the woman in the wheelchair and the guy on the bicycle. There is the light on the chimney, the man reading the map, and the wonderful red coat in the lower left hand corner.

I hope everyone has a joyous holiday season, no matter how you celebrate it. Go out for a walk, and take some pictures of the moon. You might be surprised at what it is shedding light on.
---