---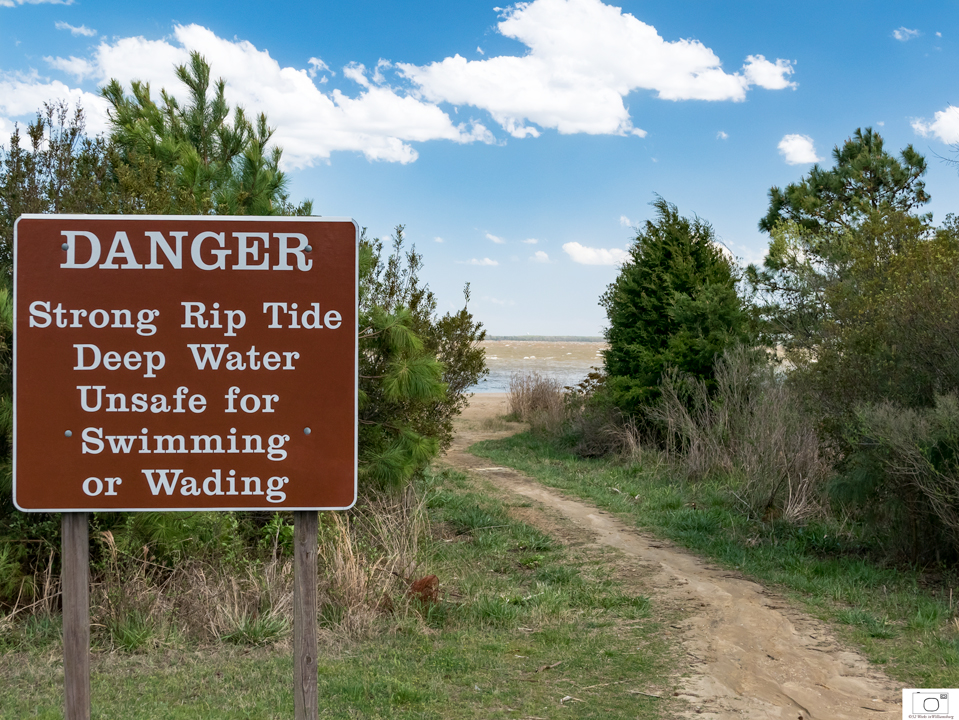 College Creek Beach Path – April 2017
---
We have had a lot of windy weather here the last five days due to a slow moving low pressure system that was spinning over Ohio heading southeast before it turned to the northeast. It was blowing 25 to 40 miles per hour from the west, and the white caps were 2-3 feet, when I took this. It was powerfully beautiful.

I used to spend summers looking at the Atlantic Ocean in Maine. It did not take much of a breeze to create white caps, but it had to be constant from one direction. The rivers could be treacherous if the wind was coming up the mouth and the tide was heading out toward low water. Helming a small boat could be fun, but dangerous if you did not know the boat, river, or the currents. You always had to be prepared. At certain times, you did not take that passage.

The other day I was out on the Colonial Parkway and came through an area of trees that opened up to College Creek and the James River. I saw a reminder of those windy river mouths and the ocean from summers' past, scaled back to a creek and a river. The light was really interesting, and I hoped I could get something representative of the conditions. The wind was coming, and the tide was going. As I walked up to the path to the beach, I saw this and was reminded of the dangers of something so beautiful. At least in a boat, flotation is provided, and you can either turn up river or power down. When wading or swimming, you provide the flotation and power. All too often there is not enough experience to know to swim across the current before the power and flotation give out.

With windy days like this one, the sign is pretty hard to miss. On seemingly peaceful days, that sign cannot be made big enough.

For a calm view of College Creek take a look at

Sandbar At College Creek

.
---