---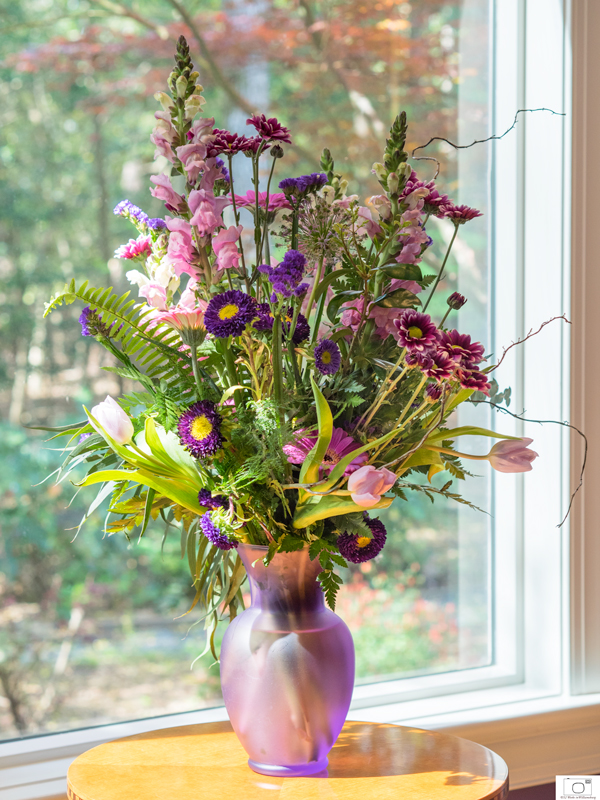 Flowers For One Fine Gal- April 2017
---
The other day the doorbell rang, I opened the door and was handed the arrangement above. I recognized the work immediately and knew it was for my wife whose birthday was this week. Her sister Sharon, who lives far away, was the sender.

My wife was on the second floor. I placed the arrangement on the island in the kitchen so that she would see them as she turned the corner from the hallway stairs. In her understated way, and her voice in a slightly rushed high register, said, "OH, OH…WHO SENT THOSE! They are beautiful.

Wendy

did it again. Take a picture, and we can send it to my sister."

Within a few minutes of sending the picture, the phone rang. After the Happy Birthdays, and how is your day going, and what are you planning for tonight, the subject of the flower arrangement came up. The short story is my wife has been researching and practicing mindfulness for the last few years, and her sister saw a small flower arrangement online called, "Lavender Serenity." She thought it would be a perfect gift. She called Wendy, our florist, to see if she could have one of these sent to my wife. Wendy said it would take too long, but she could get something similar to my wife that day. Her sister said do it, and Wendy's response was," I know just what to do for them. I will take care of it." What arrived at our door was more bountiful, and more beautiful, than her sister could have imagined.

We have known Wendy for more than twenty-five years, starting with the first arrangement she did for us. We love her sense of creativity and abstract flower arrangements. Our very first arrangement was a Christmas centerpiece for the dining room. She asked what colors we wanted, and we said," We really like jeweled colors and would prefer not to have traditional green and red." "Interesting, no green or red; what flowers do you want?", she asked. "Be creative, use your judgement, and let us know when they are ready." It would be an understatement to say she did a spectacular job. She is one of the joys of living in a small town.

Happy Birthday to my best friend, and thanks to Sharon and Wendy for making a great day even better. No matter where you live – go find you a good florist and allow them to be creative.
---